CORRID'OR - Parc transfrontalier de la Lys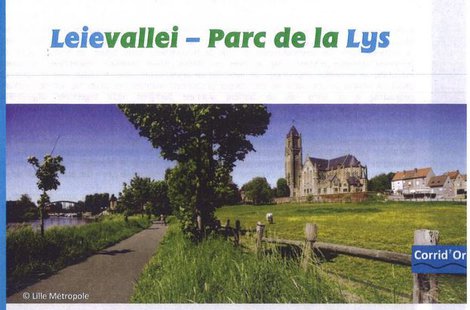 Countries:
Belgium, France
Border(s):
France-Belgium
,
Territories:
Lille-Kortrijk-Tournai Eurometropolis
,
European programme(s):
Interreg IVA - France-Wallonie-Vlaanderen
Topic(s):
-
Spatial planning and development
-
The environment, resources and waste
-
Natural and rural areas
-
Société civile
Lead partner:
Province de Flandre occidentale
Avec ce projet, les opérateurs entendent travailler à une identité transfrontalière de la Vallée de la Lys, qui doit constituer une part de l'identité du territoire, préservant un espace de nature ouvert et un lieu empreint de sens dans un environnement fortement urbanisé.
Le projet prévoit ainsi le développement d'une zone verte et d'un parc paysager de grande envergure à la périphérie de la ville où le développement de la nature, l'agriculture et la valorisation récréative sont combinés d'une manière créative et attractive.
Partners
Lille Métropole Communauté Urbaine
Intercommunale Leiedal
Agence de la Nature et de la Forêt
Ville de Comines
Ville de Wervik
Ville de Menin
MIROM Menen
Commune de Wevelgem
Ville de Courtrai
Eurometropole Lille-Kortrijk-Tournai
Espace Naturel Lille Métropole
Toerisme Leiestreek
Project goals
Développement d'un cadre commun et d'une assise du produit 'Parc paysager transfrontalier de la Vallée de la Lys'.
La reconnaissance de la Vallée de la Lys en tant que fer de lance d'un réseau vert et bleu transfrontalier tant auprès des administrations qu'auprès du grand public.
Renforcement de l'identité et de la qualité de l'image du Parc paysager transfrontalier de la Vallée de la Lys, via :
- Le développement et le test d'une stratégie commune pour la mise en œuvre d'outils d'intervention publique sur des terrains privés.
- L'aménagement de quelques terrains publics et semi-publics stratégiques
Project activities
Action 1 : Coordination du projet
Pool d'experts du Parc paysager de la Vallée de la Lys
Exécution des actions
Communication du projet
Action 2 : Faire vivre le parc paysager et créer un sentiment d'appartenance au niveau politique


Action 3 : Faire vivre le parc paysager et créer un sentiment d'appartenance auprès du grand public


Action 4 : Explorer et tester les instruments pour l'aménagement et la gestion dans un partenariat public-privé



Action 5 : Aménager et gérer des domaines (semi) publics stratégiques
Plus d'informations: https://www.espacebleu.eu/study/interreg-iva-project-corridor
Project duration
Mars 2011 - Février 2014
Total cost
1 803 403 €
EU funding
892 153 €