COMPASS - Comparative Analysis of Territorial Governance and Spatial Planning Systems in Europe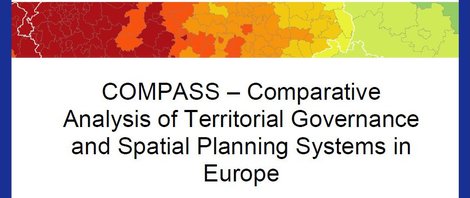 Countries:
France, Spain, Sweden, Poland, Hungary, Ireland
Border(s):
France-Spain-Andorra
,
Austria-Hungary
,
Lithuania-Poland
,
Territories:
Nouvelle Aquitaine-Euskadi-Navarre Euroregion
,
European programme(s):
ESPON
Topic(s):
-
Cross-border governance
-
Observation
-
Spatial planning and development
-
Cohesion Policy
Lead partner:
Delft University of Technology (Netherlands)
The objective of the COMPASS project was to provide an authoritative comparative report on changes in territorial governance and spatial planning systems in Europe from 2000 to 2016. This Final Report presents the main findings, conclusions and policy recommendations. It also provides a case study on the franco-spanish border to better illustrate the specificities of cross-border territorial governance. The study lists examples of good practices observed in the Nouvelle Aquitaine-Euskadi-Navarre Euroregion.
Partners
Academy for Spatial Research and Planning, (Germany)

Institute of Geography, Polish Academy of Science, (Poland)
Nordregio, (Sweden)
Politecnico di Torino, (Italy)
Center for Economic & Regional Studies, (Hungary)
Spatial Foresight, (Luxembourg)
University College Dublin, (Ireland)
Austrian Institute for Regional Studies and Spatial Planning, (Austria)
Omgeving, (Belgium)
National Institute of Geophysics, (Bulgaria)
University of Thessali, (Greece)
Czech technical University, (Czech Republic)
University of Tartu, (Estonia)
Anna Geppert, (France)
ILS Research Institute for Regional and Urban Development, (Germany)
Georgia Giannakourou, (Greece)
London Southbank University, (United-Kingdom)
Lithuanian Social Research Centre, (Lithuania)
Architecture Project Ltd, (Malta)
Centre for Geo. Studies, (Portugal)
Inst. Geography, (Slovakia)
Ipop, (Slovenia)
Mcrit, (Spain)
Istanbul Technical University, (Turkey)
Project goals
Describe and explain changes in territorial governance and spatial planning systems since 2000
Identify good practice on the relationship of spatial policies with EU Cohesion Policy
Recommend how those relationships can be improved
Project activities
Examine the role of EU Cohesion Policy and other macro-level EU policies in shaping territorial governance and spatial planning systems.
Evaluate their impacts in practice. Examination of case studies of practices in crossfertilising EU Cohesion Policy and spatial planning.
Systems and governance in practice: tracing territorial governance processes and practices within and beyond formal arrangements.
Assist in improving the knowledge base on territorial governance and spatial planning, and in particular, their role in the formulation and implementation of EU Cohesion Policy
Read the COMPASS study

Read the franco-spanish cross-border case study

Project duration
June 2016 - May 2018
Total cost
869 700 €