Coforko - Coopération Forestière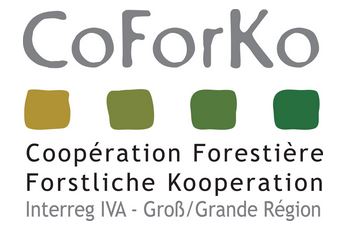 Countries:
Germany, Belgium, France, Luxembourg
Border(s):
France-Germany
,
France-Belgium
,
Belgium-Germany
,
Germany-Luxembourg
,
Belgium-Luxembourg
,
France-Luxembourg
,
Territories:
Greater Region
,
European programme(s):
Interreg IVA - Grande Région
Topic(s):
-
Economic development
-
The environment, resources and waste
-
Research and innovation
-
Natural and rural areas
Lead partner:
Forêt Wallone asbl (Wallonie, Belgique)
Le projet vise à intensifier la coopération forestière à l'échelle de la Grande Région afin d'améliorer les techniques de production et de valorisation des produits forestiers. Se concentrant notamment sur les sylvicultures d'arbre, le projet vise une meilleure coordination des politiques locales de production et des moyens engagés dans le développement forestier, l'usage en commun des outils existants et l'établissement de canaux de communication et de collaboration permanents dans le but d'améliorer la rentabilité forestière.
Le Projet CoForKo s'inscrit dans l'axe « économie » et dans les mesures de soutien à l'innovation car il vise :
- à l'amélioration des connaissances et des techniques sylvicoles permettant de produire du bois de haute qualité à moindres coûts, dans le respect des écosystèmes forestiers ;
- à la valorisation de ces bois de haute qualité.
Partners
Landesforsten Rheinland-Pfalz (Rhénanie Palatinat, Allemagne)
Institut National de la recherche agronomique (Lorraine, France)
Office National des forêts (Lorraine, France)
Université Catholique de Louvain (Wallonie, Belgique)
Project goals
Son principal objectif est de rassembler des références, des outils et des expériences et de les rendre disponibles pour tout gestionnaire désireux de s'aventurer sur cette voie.
Project activities
L'élaboration d'outils de diagnostic, de planification et de gestion dans le cadre des sylvicultures d'arbre.
La valorisation optimale de la ressource ligneuse (estimation de la qualité d'un bois, types de marché et modalités de vente).
L'interaction avec les ressources et les services non ligneux de la forêt.
Plus d'informations: https://www.foretwallonne.be/projets/coforko
Total cost
1 553 998 €
EU funding
776 999 €