Biogas 2020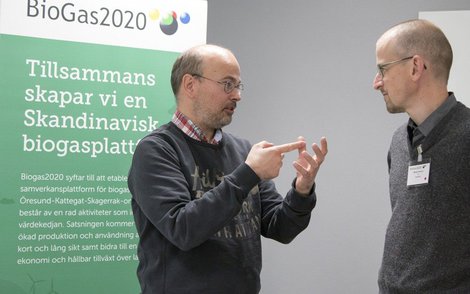 Countries:
Denmark, Norway, Sweden
Border(s):
Denmark-Norway
,
Denmark-Sweden
,
Norway-Sweden
,
Territories:
Région Öresund
,
European programme:
Interreg VA - Öresund-Kattegat-Skagerrak
Topic(s):
-
Energy
-
The environment, resources and waste
Lead partner:
Innovatum (SE)
Biogas2020 is a cross-border cooperation project for biogas (gas from organic and agricultural waste management) development in Öresund-Kattegat-Skagerrak. The project brings together the currently dispersed knowledge about biogas under a single, strong, collaboration platform.
Partners
Institute for Reseach and Development and Technology, Aarhus University
Agrobusiness Park (DK)
Fyrbodal (SE)
Energiforsk (SE)
Biogas Syd (SE)
Gas2move (DK)
HMN Naturgas (DK)
Högskolan Halstad (SE)
Högskolan Väst (SE)
Hushaallnings sällskapet (SE)
Högskolan I Boraas (SE)
JTI Istitut f¨r jordbruks- och miljöteknik (SE)
Hoegskolen I Soeroest (NO)
NINIO Norks Institut for Bioøkonomi (NO)
LISTER Nyskaping (NO)
Oslo Renewable energy and Environment Cluster (OREEC, NO)
KTH (SE)
Nomi4S Ressource center (DK)
Buskerud Kommune (NO)
Akershus Kommune (NO)
Oslo Kommune (NO)
Telemark Kommune (NO)
Vestfold Kommune (NO)
Skive Kommune (DK)
Østfold Kommune (NO)
Frederikssund Kommune (DK)
Samsø Kommune (DK)
Region Skane (SE)
Västra Götalandregionen (SE)
SLU (SE)
Seaweed Production
Ocean Forest
NTU
VEAS (NO)
Project goals
Create the conditions for more investment in biogas production
Greater cooperation to develop new technology, tools and methods
Increased use of biogas, chiefly in the transport sector

Biogas2020is expected to pave the way for €100 million worth of investment in renewable energy over a 10-year period, while creating 1,000–1,500 jobs in the industry.
Target group(s)
Actors of biogas production and use, universities, schools, compagnies, public organizations.
Project activities
Creating an online platform for a better coordination and dialogue between actors from different countries and regions and exchange about each other's motivations and obstacles
Promotion of biogas as a fuel for heavy transport (buses and trucks)
Increasing and streamlining production of biogas through collaboration between universities, institutes, companies, developers, public organizations, with the support of the platform drives development forward.
Project duration
2016-2019
Total cost
11,9 Million €