Bateau-pompe franco-allemand EUROPA 1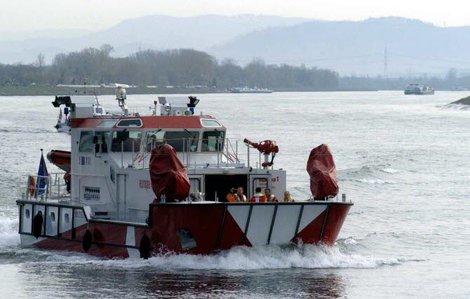 Countries:
Germany, France
Border(s):
France-Germany
,
Territories:
Tri-national Metropolitan Region of the Upper Rhine
,
Strasbourg-Ortenau Eurodistrict
,
European programme(s):
Interreg IVA - Upper Rhine
Topic(s):
-
Watercourses
-
Climate change, risk management and prevention
-
Healthcare
-
Spatial planning and development
Lead partner:
Land du Bade-Wurtemberg
Le bateau-pompe franco-allemand EUROPA 1 est un projet conjointement initié par le Land du Bade-Wurtemberg et le Service Départemental d'Incendie et de Secours du Bas-Rhin (SDIS 67), les autorités compétentes locales et la Conférence du Rhin supérieur et en particulier son groupe d'experts « Concept d'intervention et de secours sur le Rhin ».
Ce sont au total six partenaires français et allemands ainsi que l'Union européenne, dans le cadre du programme INTERREG III-A Rhin supérieur centre-sud, qui ont financé la construction du bateau EUROPA 1, qui est un engin multifonctionnel de secours et d'assistance rapide.
Le bateau intervient en cas d´avaries sur un périmètre d'intervention délimité du Rhin supérieur ainsi que dans la zone portuaire de Strasbourg et sa ville voisine allemande Kehl, et bénéficie à ce titre d'une technologie de pointe. La construction du bateau a été réalisée par la société Neckar Bootsbau Ebert GmbH située à Neckarsteinach (D).
Partners
Land Bade-Wurtemberg
Etat français
Département du Bas-Rhin
SIDS 67
Région Alsace
Port autonome de Strasbourg
Project goals
Le sauvetage des personnes
L'alimentation en eau des dispositifs terrestres
L'extinction des feux
Project activities
Plus d'informations: https://www.google.com/url?sa=t&rct=j&q=&esrc=s&source=web&cd=&cad=rja&uact=8&ved=2ahUKEwjv3qammL3yAhVHcBQKHX7hAmcQFnoECCgQAQ&url=https
Project duration
du 01/01/2005 au 31/12/2007
Total cost
2 500 000 €
EU funding
1 000 000 €