Aménagement d'une voie verte transfrontalière entre Huningue, Bâle et Weil-am-Rhein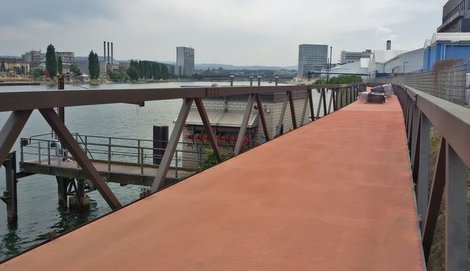 Countries:
France, Switzerland, Germany
Border(s):
France-Switzerland
,
France-Germany
,
Germany-Switzerland
,
Territories:
Basel Trinational Eurodistrict
,
European programme(s):
Interreg IVA - Upper Rhine
Topic(s):
-
Spatial planning and development
-
Cross-border conurbations
-
The environment, resources and waste
-
Tourism
-
Transport
-
Land and housing
Lead partner:
Conseil départemental du Haut-Rhin
Un nouvel itinéraire cyclable et piétonnier appelé « voie verte » relie depuis début 2016 le centre-ville de Huningue en Alsace et le centre-ville de Bâle en Suisse. Les différents travaux d'aménagements des tronçons ont eu lieu en 2015 et la voie verte a été mise en service début 2016. A terme, elle reliera également la ville allemande de Weil-am-Rhein.
Partners
En France :
- Communauté de Communes des Trois Frontières
- Ville de Huningue
- Conseil régional d'Alsace
- Chambre de commerce et d'industrie-Ports de Mulhouse-Rhin
- Voies Navigables de France
En Suisse :
- Confédération Suisse
- Canton de Bâle Ville
- Entreprise Novartis
Project goals
Ce parcours de moins de deux kilomètres, passant par la Passerelle des Trois Pays, vise à améliorer les trajets domicile-travail entre Bâle et le campus Novartis et les lieux de résidence des frontaliers davantage situés en France et en Allemagne. Il s'adresse également aux promeneurs et touristes pour une promenade aux bords du Rhin.

La voie s'inscrit sur trois axes euroVélo (n° 5 Londres-Rome-Brindisi, n° 6 Atlantique-Mer Noire et n° 15 Véloroute Rhin). Au niveau local, elle constitue le chaînon manquant de la liaison cyclable entre Bâle, Huningue et Weil am Rhein.

Le projet revêt une dimension à la fois environnementale (dépollution des berges du Rhin), sociale (voie partagée vélos, piétons, rollers) architecturale et paysagère (valorisation d'une friche délaissée en une « promenade » aux abords du Rhin).




Project activities
Pour l'instant cette voie n'est ouverte que les samedi et dimanche, en attendant la fin des travaux prévus pour l'été 2017.
Le projet s'inscrit dans le cadre d'IBA Basel 2020.
Plus d'infos sur le site de la Ville de Huningue.
https://www.ville-huningue.fr/fr/voie-verte/
Project duration
Début du projet en 2013 - Ouverture en 2016 et 2017.
Total cost
1 730 000 €
EU funding
665 000 €