ALARM - For security without borders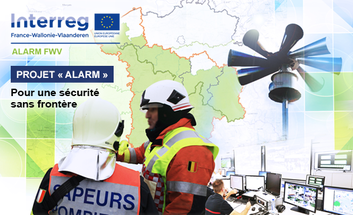 Countries:
France, Belgium
Border(s):
France-Belgium
,
Territories:
Lille-Kortrijk-Tournai Eurometropolis
,
Dunkirk-West Vlaanderen-Côte d'Opale
,
European programme(s):
Interreg VA - Belgium-France (France-Wallonie-Vlaanderen)
Topic(s):
-
Sécurité, police
-
Public Services
-
Healthcare
-
Climate change, risk management and prevention
Lead partner:
Service départemental d'incendie et de secours (SDIS) du Nord
A shared region and shared risks must not be faced with obstacles to the carrying out of missions by emergency services in emergency situations." Identifying existing risks, learning to collaborate on a daily basis in order to react more efficiently in emergency situations, and promoting a citizen-culture of civil security: such is the ambition of the ALARM project, which brings together 26 French and Belgian partners. This "France-Wallonia-Flanders" tripartite initiative aims to develop an operational cross-border cooperation between the civil security players on either side of the France-Belgium border at the different levels (risk analysis, planning, crisis management) and on a wide spectrum of cross-border risks.

The project held its launch conference on 31 January 2017, and is scheduled to continue working until 2020. It is co-financed by the Interreg VA France-Belgium programme.

*In French: "Schéma transfrontalier d'analyse et de couverture des risques"
Project goals
The project is structured around three axes:
Integrated risk management, with the establishment of a networking platform
"Day to day" operational cooperation, with the development of a cross-border plan for assessment and management of risks (STACR*) and actions towards better communication between the emergency services.
Involvement of local government and the populations.
Project duration
2016-2020
Total cost
2 868 758 €
EU funding
1 434 379 €