Cross-border cooperation
Introduction
The cross-border programmes (Interreg VA) are a continuation of Interreg with four previous programming periods : Interreg 1990-1993, Interreg II 1994-1999, Interreg III 2000-2006 and Interreg 2007-2013.
Cross-border cooperation concerns NUTS level 3 regions along internal land borders. The regions of the European Union along maritime borders must be separated by a maximum distance of 150 km in order to be eligible. France is therefore taking part in 14 cross-border cooperation programmes (including 5 overseas programmes).
In Europe, 60 cross-border programmes are active on 38 internal borders of the European Union, with funding of €6.6 billion. In addition to these programmes, thre are 12 programmes under the Instrument for Pre-Accession Assistance (IPA) and 17 under the European Neighborhood Instrument (ENI).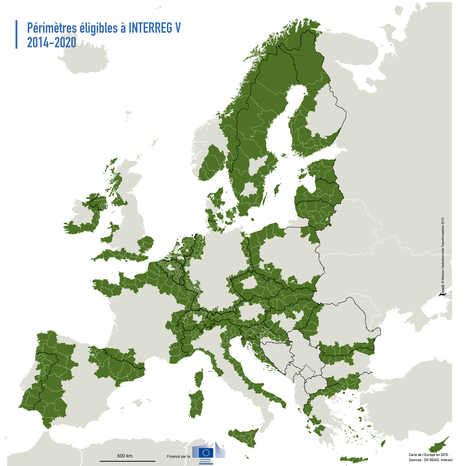 Click on the map to download it.
The Union's goal for the 2014-2020 programming period is that investment from Structural Funds should contribute to the sustainable, intelligent and inclusive growth objective of the Europe 2020 strategy.
To this end, various elements have been introduced in the European regulations for this period:
THEMATIc concentration
INTERREG programmes for this programming period must concentrate 80% of their ERDF (European Regional Development Fund) allocation on 4 of the 11 thematic objectives set out in the Europe 2020 strategy. This makes it possible to make investments more relevant and adapted to the territories in which they are made.

TO1: Strengthening research, technological development and innovation
TO2: Enhancing access to, and use and quality of, ICT;
TO3: Enhancing the competitiveness SMEs, of the agricultural sector (for the EAFRD) and of the fishery and aquaculture sector (for the EMFF)
TO4: Supporting the shift towards a low-carbon economy in all sectors
TO5: Promoting climate change adaptation, risk prevention and management
TO6: Preserving and protecting the environment and promoting resource efficiency
TO7: Promoting sustainable transport and removing bottlenecks in key network infrastructures
TO8: Promoting sustainable and quality employment and supporting labour mobility
TO9: Promoting social inclusion, combating poverty and any discrimination
TO10: Investing in education, training and vocational training for skills and lifelong learning
TO11: Enhancing institutional capacity of public authorities and stakeholders and efficient public administration

Focus on results
Programmes are required to establish specific objectives to be achieved for each of the thematic objectives pursued.To report on progress made during the period indicators should be developed with target values to be achieved by 2023. Some indicators are programme-specific, while others are common to all programmes so that they can be compared.
Ex-ante conditionalities
Before granting funds, the European Union shall ensure that the necessary conditions are in place for efficient investment and that the fiscal and economic framework does not prevent it from doing so. Some conditions are linked to the 11 thematic objectives, while others relate to specific areas of intervention. If the ex-ante conditions are not met at the time of adoption of the programme, the State in which the programme is based must submit a plan showing how it intends to remedy the situation.