News
Study trip by a delegation from Haïti and the Dominican Republic
November 2018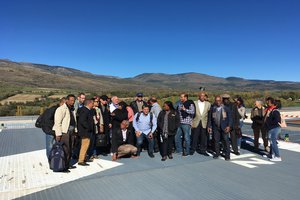 On 22-26 October, the MOT coordinated and accompanied the study visit of a delegation made up of representatives of ministries and local authorities from Haiti and the Dominican Republic.
This project follows on from two assignments by the MOT in 2016 and 2017 in these Caribbean countries aimed at fostering the emergence of cross-border cooperation there.
The objective was thus to build on this momentum by enabling the members of this binational delegation to get to know one another better through studying how cross-border cooperation is organised at the national level in France, as well as emblematic cross-border projects along the Franco-Spanish border.
The participants were first received by the MOT and then by the Ministry for Europe and Foreign Affairs and the French Development Agency. During the course of a field visit along the Franco-Spanish border, they learned about the cross-border actions of the Pyrénées-Orientales Departmental Council in Perpignan, the working of Cerdanya Hospital and that of the cross-border abattoir in Ur, before being received by the Cerdanya District Council in Puigcerdà. On the Basque border, the delegation was received by the Mayor of Hendaye; and it learned about the whole range of projects implemented by the Nouvelle Aquitaine-Euskadi-Navarra EGTC, the Gipuzkoa Provincial Council in San Sebastian and the Basque Country Conurbation Community. The trip ended with a visit to the cross-border water treatment plant in Fontarabia in Spain, and by a presentation of the activities of the Bidassoa-Txingudi Cross-Border Consortium.
The links forged during this week both between the two delegations and with the French and Spanish players will facilitate the development of decentralised cooperation along both Caribbean and European borders.
Back to list