News
Towards the creation of an online forum for the MOT network
November 2015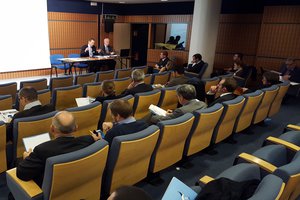 On 18th November, members of the MOT network gathered at the CGET (General Commission for Territorial Equality) in Saint-Denis, for a meeting of the Technicians' Platform and the Advisory Committee of the MOT.The Technicians' Platform looked at plans to put in place during 2016 an online forum for exchanges between members of the network.
The previous meeting of the platform had permitted the gauging of members' expectations. The discussions of 18th November clarified the three main objectives for this new tool currently in development:
Facilitating dialogue and direct exchanges between members;
Obtaining technical responses, notably concerning obstacles and solutions, and exchanging experiences in this area;
Allowing the MOT to identify recurrent obstacles and, when necessary, relaying them to the competent levels of governance for their resolution.
Participants discussed an analysis grid, which will soon be sent to all network members for their feedback. The need for reporting issues of concern with regular summaries was highlighted.
In keeping with the objective of pooling resources, the MOT has recently put online, for members, the notes produced within the framework of the MOT "service vouchers"*. Click here to access them [in French].
The forum project was also addressed in light of other work moving in the same direction:
The process of updating the diagnosis and the obstacles/solutions inventory for French-Belgian cooperation**, undertaken by the Nord-Pas-de-Calais SGAR (General Secretariat for Regional Affairs) with the MOT's assistance – work demonstrating a relevant and replicable methodology for other borders;
The work of the Luxembourg Presidency on the question of obstacles to cooperation and the proposal of a new legal instrument**;
The European Commission consultation currently underway, to which the MOT invites all the members of its network to respond.
Following these exchanges, the meeting of the Advisory Committee was chaired by Michel Delebarre, senator for the Nord department, president of the MOT, in the presence of three vice-presidents – Anne Sander, MEP, Jean-Marc Duriez, president of AGAPE (Northern Lorraine urban planning and sustainable development agency) and Laurence Navalesi, representative of Métropole Nice Côte d'Azur – as well as local and national representatives.
More info for members:
On the Technicians' Platform meeting
On the Advisory Committee meeting
* More info on the "Services to members".
** More info in the next newsletter.
Back to list