News
Towards new interclustering projects in Aquitaine-Euskadi
December 2014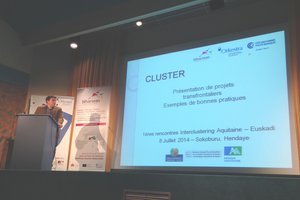 The cross-border chamber of commerce for the Basque Country, BIHARTEAN, and the Euskadi Institute of Competitiveness, ORKESTRA, have for more than a year been implementing a cross-border interclustering initiative, recognised as a project of Euroregional interest by the Aquitaine-Euskadi EGTC*.
The objective is to identify avenues of development between clusters on either side of the border, to structure and make permanent their collaboration and to contribute to the creation of a Euroregional cross-border economic territory.
A survey of clusters in the two territories resulted in desired convergence on three points: the exchange of good practices regarding the management of clusters, collaboration in the area of innovation and shared access to new markets and customers. An analysis of patents applications filed by companies and technology centres in the territory made it possible to bring out some convergent issues. On the basis of this work, a meeting entitled "Interclustering Act II", held on 25 November in Hendaye, was a chance to discuss:
"geolocation and its multi-sectoral applications", bringing out ideas for collaboration in the transportation of dangerous waste and the practice of water sports;
"food/product processes", devoted to the packaging and customisation of new products focused, for example, on health or senior citizens;
"new materials and new industrial processes".
The next stages concern the creation of pilot groups of clusters/firms/territories in order to formalise cross-border projects.
* Also in partnership with the Basque Government and the Aquitaine Region.
Back to list