News
A new project for European straits
May 2016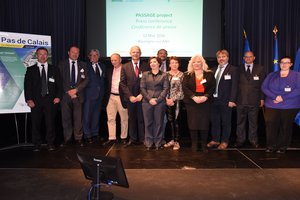 On 12 May, a conference was held to launch a new European project entitled "PASSAGE"*, initiated by the Pas-de-Calais Department and Kent County Council within the framework of the European Straits Initiative. Funded by the Interreg Europe programme, it involves eleven partners on five maritime borders** and is aimed at encouraging cross-border low-carbon initiatives.
The idea for the project arose from the fact that Europe's straits, which are at the heart of maritime border regions, are major points of transit with a high concentration of flows and activities resulting in considerable carbon pressure. More info
* "Public AuthoritieS Supporting low-cArbon Growth in European maritime border regions".
** France/United Kingdom, Estonia/Finland, Germany/Denmark, France/Italy, Albania/Greece/Italy.
Back to list