News
A Straits Committee has been set up by the local authorities on either side of the Channel
May 2020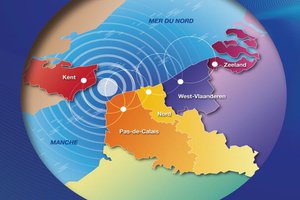 Six local authorities bordering the Strait of Dover and the North Sea have decided to turn their bilateral relations into a multilateral area for dialogue in order to encourage the emergence of cross-border projects across the territory of the Strait.
Following its launch at a conference that took place in Arras on 5 February and that brought together 200 people from the public, higher education, business and voluntary sectors from across the whole area of the Strait, the Straits Committee was able to begin its work in spite of the constraints linked to the current health crisis.
This initiative by the Pas-de-Calais Department and Kent County Council, which also includes the Nord Department, the provinces of West and East Flanders (Belgium) as well as the province of Zeeland (Netherlands), aims to facilitate flexible governance of the Strait of Dover and is setting itself up as a new space for dialogue and cross-border collaboration.
Faced with the impact of Brexit on the territories that border the Strait, it seeks to strengthen the interinstitutional relations that have existed for over 30 years, by extending this cooperation to include the territory's stakeholders.
Among the three work areas that have been targeted by the Committee are young people, the ecological transition and economic development. This latter area is the subject of the Committee's initial work, with the setting-up of a working group on tourism in order to support the territory's players in dealing with the consequences of the current travel restrictions.
Back to list