News
Third meeting of the intergovernmental group on innovative solutions to cross-border obstacles
January 2017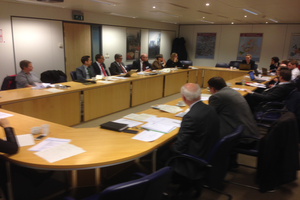 The third meeting of the intergovernmental group initiated by Luxembourg and France took place on 14 December 2016 in Brussels. The discussions focused on the drafting of a final report that will set out the outline of the new European legal tool – the European Cross-Border Convention (ECBC) – proposed by the group and designed to help overcome cross-border obstacles.
This report will feed into the Commission's work on the preparation of a communication due in September on the issue of obstacles, which will propose new European initiatives.
The report will also discuss the elaboration of a methodology for identifying and overcoming obstacles, as well as a toolkit (including the legal tool). It will stress the need for effective and coordinated national approaches, with those adopted by Germany, France and Hungary having been presented at the meeting on 14 December.
All the documents relating to the meeting are available on the MOT's website, with the MOT providing the technical secretariat for the group.
Back to list