News
Strasbourg, a resolutely cross-border metropolis
May 2015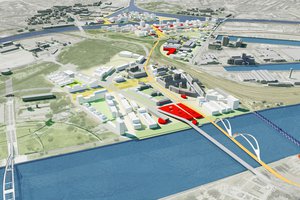 Bridging the gap between France and Germany, Strasbourg is at the heart of the Upper Rhine and has formed diverse partnerships at various levels of cross-border cooperation consistent with its metropolitan policies.
The neighbouring town of Kehl is a preferred partner with which relations are becoming ever-stronger: a cross-border centre for young children was inaugurated in 2014 and the two cities will be linked by a tram line from 2017, a backbone for the Deux Rives development.


With the Maison de l'Emploi and the Agentur für Arbeit, the Eurometropolis enables many young people, most of them French, to access the job market through apprenticeship. The Start'Hop and Kiosk schemes support cooperation between young entrepreneurs on both sides of the Rhine by providing guidance for creating or taking over businesses and making co-working spaces available to them.


The Strasbourg-Ortenau Eurodistrict is 10 years old and now includes the French administration and three other intercommunal communities on the French side as members. An innovative approach coordinated since 2010 by an EGTC, the Strasbourg-Ortenau Eurodistrict is building a territory project oriented towards the future. Particular emphasis is placed on citizen dialogue with topical forums and annual meetings between elected representatives and citizens.


Strasbourg has become the mouthpiece for the Upper Rhine Cities Network, a body for consultation and cooperation between the major conurbations. This platform implements territorial lobbying and experience-sharing actions on issues of accessibility, urban development and cultural visibility.
Contact:
Eurométropole de Strasbourg
Relations Européennes et Internationales
Tel: +33 3 68 98 74 15
jean-baptiste.schiber(at)strasbourg(dot)eu

Photo: The Deux-Rives project, an ambitious urban development establishing a new cross-border city centre between Strasbourg and Kehl.
Read the editorial from Roland Ries, Mayor of Strasbourg, Honorary President of the MOT.
Back to list