News
Seminar on cross-border observation in Budapest
October 2014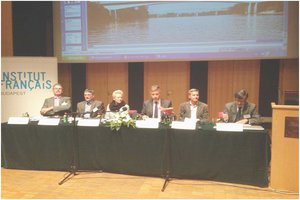 The CESCI, the MOT and INFH co-organised the 2nd European Seminar on cross-border territorial observation on 30 September 2014 at the Institut français de Budapest in Hungary.
This event, following on from the Nancy initiative, was opened by Levente Mayar, Hungarian junior secretary of state for economic diplomacy, who restated the importance of cross-border cooperation for the territorial integration of his country in its European neighbourhood.
The various speakers emphasised the issues related to cross-border observation and the obstacles that still have to be overcome. Successful examples of observation on various borders (Denmark-Sweden, France-Germany-Switzerland, Germany-Netherlands-Belgium) were presented.
At a round table on addressing cross-border observation at European level, MOT secretary-general Olivier Denert presented the system set up by the Commissariat Général à l'Egalité des Territoires (CGET) in France with the neighbouring States.
The European Commission representative stressed the importance of observation for evaluating the achievements of European territorial cooperation over nearly 25 years.
More info on the topic of observation on the MOT website
The presentations on line
Back to list