News
Legal seminar on the French-German-Luxembourg border
October 2013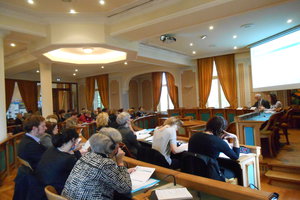 Over 50 practitioners participated in the seminar on the legal instruments for cross-border projects organised by the MOT on 17 October 2013 in Sarreguemines and hosted by the Communauté d'Agglomération Sarreguemines Confluences (Sarreguemines Confluences Agglomeration Community).
The first roundtable concerned the legal tools available to cross-border projects (relevance, value added and limitations) and the different possible legal structures were illustrated by existing cooperation initiatives along this border. Four examples were presented: two territorial development structures with multi-sector remits (the SaarMoselle Eurodistrict EGTC, set up in 2010, and the association of the Basel Trinational Eurodistrict, set up in 1995); a training and assistance body, the Euro-Institut (set up in 1993 and structured as an EEIG, and then as an LCCG in 2003); and lastly, a public facility – the fire-boat on the Rhine – which is managed by the Europa 1 LCCG (set up in 2007).
The discussions in the second roundtable concerned the life cycle of cross-border projects (strategy, engineering, legal structure and financing). Other examples were discussed, such as: the Alzette-Belval EGTC (set up in 2012 to support the development of a cross-border territory on the France-Luxembourg border), the Interreg Saarland-Moselle-Lorraine-Westpfalz Public Interest Grouping (which was the managing authority of an Interreg IIIA programme and is now in charge of the territorial coordination of part of the Greater Region programme) and the Upper Rhine Trinational Metropolitan Region (a multi-level informal consultation structure set up in 2010).
Back to list