News
Dutch Provinces' seminar on cross-border cooperation
April 2016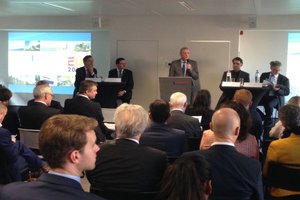 In the context of the Netherlands Presidency of the Council of the European Union, the House of the Dutch Provinces in Brussels hosted a seminar on 17 March 2016 on cross-border cooperation.
Particularly affected by cross-border issues*, the Dutch provinces encounter numerous challenges in common with other European cross-border territories.
This seminar was the opportunity to address the issues of cross-border structuring of transport networks, cross-border employment, education and recognition of qualifications, the importance of cross-border statistics for making policy and measuring its effects, healthcare, etc.

Discussions also touched on measuring the effects of legislation on cross-border regions, as well as support for setting up cross-border projects. Participating in the seminar, the Luxembourg Department for spatial planning noted the links with the preceding Luxembourg Presidency and the legal instrument proposed by the Grand Duchy (with technical support from the MOT). This instrument, the "European Cross-border Convention on specific provisions in cross-border regions" (ECBC), would allow public backers of local projects to apply to their respective national governments for the implementation of legal solutions for the realisation of specific cross-border projects. The proposed instrument resonates with the difficulties encountered by project leaders on Dutch borders (including the case of a cross-border industrial zone) and is similar to legal instruments used between members of the Benelux Union.
The Dutch minister in charge of urban policy indicated that the ministerial meeting on 30 May would adopt the Pact of Amsterdam, establishing the EU Urban Agenda which comprises twelve priority thematic areas, with cross-border territories taken into account as a cross-cutting issue.
* 7 out of 12 provinces with national borders, including Limburg, a MOT member, which shares a greater length of its frontiers with Germany and Belgium than it does with the rest of the Netherlands.
Back to list