News
"Reform Schengen" : what impacts for border areas?
March 2016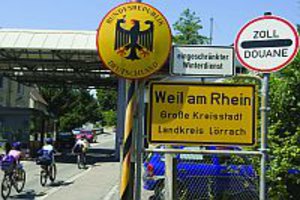 "Every day, we hear about another member country of the Schengen Area reinstating identity checks at its national borders in order to stop the inflow of illegal immigrants. While checks are necessary, they have a major impact on the daily lives of those who live close to these borders and habitually cross them: long traffic queues have appeared on our roads and the costs are starting to be felt by businesses and individuals."
These issues were at the heart of the discussions at the third meeting of the European Parliament's working group on cross-border cooperation, which was chaired by Anne Sander MEP. More than 70 participants, including the MOT, met on 25 February 2016 in Strasbourg to take stock of the border controls in Europe, assess the impacts on border regions and think about the different scenarios to achieve a better balance between management of migration flows, internal security and free movement within the EU.
We should recall that the European Commission records 1.7 million cross-border workers and 57 million road transport journeys a year, which are impacted.

- Read the editorial from Anne Sander, MEP, Vice-President of the MOT.
- Read the article "Cross-border workers would be among "those most affected" by the Schengen Area being called into question".
- Download the map produced by the MOT showing the borders in Europe that have been closed or are in the process of being closed.

For your diary:
MOT is organising its general assembly and annual conference on 24-25 May 2016, on the topic "Borders: a resource for the inhabitants of border regions". More info
Photo: Eurodistrict Trinational de Bâle

Back to list