News
Meeting of the cross-border group of the Committee of the Regions
March 2016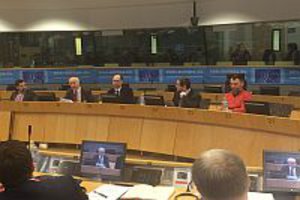 The "cross-border cooperation" interregional group of the Committee of the Regions, which was set up in July 2015, held its second meeting on 11 February 2016 in Brussels.
Chaired by Pavel Branda (ECR/CZ), this group aims to step up the resolution of the "common challenges faced by border regions in Europe, with the aim of sharing points of view and experience of EU programmes […] and of influencing EU legislation". It has 30 members.
The meeting of 11 February, in which Michel Delebarre, a member of the group in his capacity as the MOT's President, and Jean Peyrony, the MOT's Director-General, took part, addressed the following points:
Regarding the territorial impact analyses for draft legislation carried out by the Committee of the Regions, the group affirmed the need to also take account of cross-border territories and issues. A methodology to achieve this is in the process of being drawn up.


Coordination between the group's work and that of the EGTC Platform, whose next meeting is due to be held on 19-20 April, was strengthened.


DG REGIO reported the initial findings of the "Cross-Border Review": following the public consultation conducted between September and December 2015 to identify the obstacles to cross-border cooperation in Europe, a study of these obstacles is underway, and meetings of experts, to which the MOT has been invited, have also been organised. The findings will be made public during the course of the year.


Lastly, an update was given on the activities of the AEBR and the MOT. Jean Peyrony was able to present the MOT's activities and potential avenues for cooperation with the Committee of the Regions.
Consult the minutes of the meeting on the MOT's website.


Back to list