News
Meeting of Anne Sander's group on higher education and research
March 2018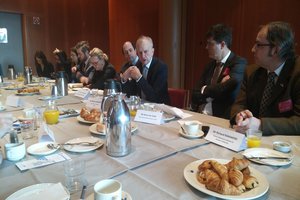 The eighth meeting of the European Parliament's working group on cross-border cooperation, chaired by the MEP Anne Sander, Vice-President of the MOT, took place on 28 February and was devoted to the topic of higher education and research.
The meeting, which the MOT took part in, was an opportunity to present integrated cooperation initiatives between higher education institutions and research institutes, with experiences shared by Eucor (the European Campus – FR/DE/CH), the University of Maastricht and the Benelux Union, which has just signed an agreement in this area. The contribution by DG REGIO highlighted the main obstacles to be overcome such as recognition of qualifications and incompatibility between courses.
The MOT's map of universities in cross-border areas, on the French borders.
Back to list