News
Territorial meetings of the MOT network
December 2020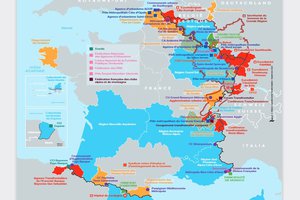 In order to keep abreast of territorial realities and remain as close as possible to its members, the MOT has launched several initiatives: a technical committee, working groups and a Europe-wide event (the Borders Forum). It is currently preparing its 2021-23 programme, with the objective of better adapting to local, national and European needs, and fostering its "modularity". It was in this context that it organised, in September and October 2020, nine "territorial meetings".
Their aim was to better identify territories' needs, determine the MOT's capacity to support them, and encourage the pooling of the needs expressed, in order to obtain economies of scale and the pooling of public funds.
Complemented by a survey designed to assess the MOT's actions and to identify the priority themes and expectations of the network's local members, these meetings brought together, in person or virtually, nearly a hundred players.
Intended to become regular events, they have already highlighted key issues and crucial areas of work. The information and experiences gathered will be communicated to the network shortly.
Back to list