News
Relaunch of the Cross-Border Strategic Committee on observation
October 2018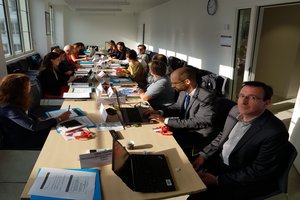 On 18 September 2018 the sixth work meeting of the Cross-Border Strategic Committee (CSC) took place, which had not met since April 2015. Set up in 2013, the CSC brings together representatives of the ministries in charge of territorial development in France and its neighbours: Germany, Switzerland, Spain, Italy, Luxembourg, Belgium and Andorra, as well as their statistical institutes.
It is a single place of governance that enables impetus to be given to priorities and joint work to coordinate and harmonise the partners' approaches to cross-border observation.
The sixth meeting, in the presence of DG REGIO, made it possible to identify priority topics (such as travel to work, and property prices), and to launch a project to produce a joint publication on the actions implemented in the area of cross-border observation by France and Germany, which can serve as an example for other territories.
Back to list