News
ESPON report "Making Europe Open and Polycentric"
October 2014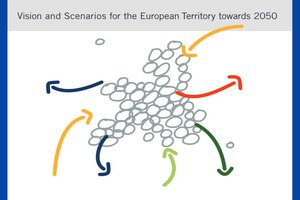 The final report of the ESPON ET2050 research project "Vision and Scenarios for the European Territory towards 2050", conducted by the members of the ESPON Committee, in liaison with the European institutions and other European experts, has been published.
"A territorial vision at European level will serve as a common reference framework for the long-term and more consistent development of European policies, particularly for Cohesion policy in performing as an investment policy, as well as for better cross-border coordination of local, regional and national policies. […]
Cross-border relations are still very much limited to those regions where connections always existed and European's mental geographies remain heavily constrained by national narratives. Paradoxically, Europeans have become more mobile and social and economic relations between large cities across Europe and the rest of the world have increased exponentially in the latest twenty years."
Back to list