News
A publication by the MOT: The Covid-19 crisis on French borders
June 2020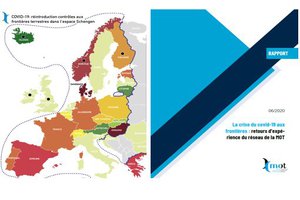 The MOT has published an analysis of the consequences for cross-border territories of the health crisis – the result of a call for experiences issued to all of its members. Organised in three main parts, it aims to set out the impacts, difficulties and initiatives linked to the management of the Covid-19 health crisis in cross-border territories.
In the first part, it recalls the border control measures employed. In the second part, it provides an assessment of the impacts on workers, patients, residents, families, retailers and local authorities that move around within these areas.
The last section then sets out an analysis of inhabitants' perceptions with respect to the crisis and the lockdown, in a context in which the closing of borders resulted in increased constraints and discriminatory situations that were specific to these populations.
In addition to describing the impacts and experiences along borders, this summary details initiatives carried out by local authorities and cross-border structures to address the crisis. These should be more widely communicated. From the Franco-German crisis task force set up by the partners of the Cross-Border Cooperation Committee to the role played by EGTCs and Eurodistricts in maintaining as strong links as possible with inhabitants of cross-border living areas, by way of crisis operational management of facilities such as the Cerdanya Hospital, these experiences should enable us to jointly formulate an assessment of crisis management along our borders, and to draw conclusions from it to strengthen future cooperation initiatives.
This publication has also been sent in response to the call for contributions to "Covid-19 : pour un après soutenable" ("For a sustainable post-Covid-19") issued by France Stratégie.
Download the publication [FR]
The map

Back to list