News
The MOT's first entirely digital general assembly
: Cross-border players – always on the front line!
February 2021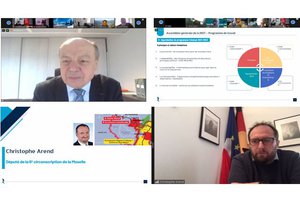 The MOT's network met via video-conference on 4 February, with nearly 100 participants representing virtually all of its members, to discuss its work programme and priorities for the coming year.
The MOT's President, Christian Dupessey1 underscored the major impact of the crisis in cross-border territories, which remain on the front line, with however a recent advance that should be highlighted: the recognition of cross-border living areas in the latest border restrictions put in place in France. But cross-border players remain mobilised, and the MOT network will continue to work in 2021 to ensure that their specificity is taken into account. The members stated that this support should be set out with greater clarity in national and European policies: the recovery plan, State-Region plan contracts, recovery and ecological transition contracts, European programmes, etc.
Several French MPs2 stressed the need to reinforce the cross-border dimension in the 4D "decentralisation, deconcentration, differentiation and decomplexification" bill. In this context, the MOT has drafted and today is publishing its contribution to the draft legislation, based on a broad consultation of its network3.
Other European priorities were highlighted, such as the draft regulation on the ECBM, which still lacks support, the Conference on the Future of Europe and preparations for France's presidency of the EU, in which cross-border cooperation should occupy an important place. The MOT will step up to these challenges: 2021 must be the year in which France shows the way in cross-border cooperation!
The members approved the triannual and annual work programme4, drawn up in close collaboration with them. In addition to the issues already mentioned, they highlighted priority projects and areas such as mobility, major rail corridors, homeworking for cross-border workers, cross-border citizens' dialogue (see the Alliance5), Brexit and implementation of the Franco-German Aachen Treaty, etc. An amendment to the association's statutes and the annual budget were also approved.
1 Mayor of Annemasse and President of the Metropolitan Pole of the French Genevois.
2 French MPs present: Christophe Arend, MP from the Moselle Department, Sylvain Waserman, MP from the Bas-Rhin Department, Virginie Duby-Muller, MP from the Haute-Savoie Department.
3 More info
4 More info for members in the Members Area on the website. View the triannual programme (in French).
5 More info
Back to list