News
The first European cross-border inter-university seminar
October 2015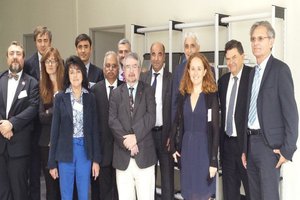 On 24-25 September 2015, the University of Pau and the Pays de l'Adour (UPPA) welcomed twelve cross-border groupings of European universities at a seminar organised within the framework of the EBRoS 2020 project (a French-Spanish inter-university project funded by the Interreg programme POCTEFA).
Cross-border cooperation is stated as the priority of the UPPA's international policy, as demonstrated by its numerous collaborations with the University of Zaragoza, the University of the Basque Country and the Public University of Navarra in the areas of training (expanding mobility and double degrees) and research (inter-university thematic workshops and joint supervision of doctoral theses). The seminar helped to facilitate interactions between the players from the different cross-border universities and to share experiences and good practices. Jonathan Boudry, who is the MOT's legal expert, provided clarifications about the stages involved in setting up a European Grouping of Territorial Cooperation.
The seminar brought together 90 professionals over two days. It constitutes the first stage in the creation of a European network of cross-border universities. The aim is to systematise this type of meeting in order to give visibility to the joint actions of universities and to coordinate and pool efforts in discussions with the European institutions.


Back to list