News
Overseas territories: a 'blue book' to set the territories' priorities and strengthen their "regional foothold"
September 2018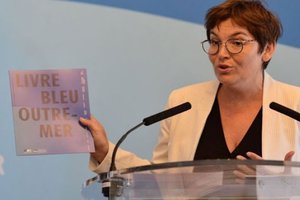 France's borders can be found not only in Europe, but also in the Caribbean, the Indian Ocean, and the Pacific. France's overseas territories are all concerned by cross-border issues. At the Assises des Outre-mer ("Overseas France Conferences", promised in President Macron's election campaign), the Minister for Overseas France, Annick Girardin, presented the President on 28 June with a 'blue book' detailing the roadmap and the priorities for these territories for the President's five-year term.
Numerous similarities between France's outermost territories: geographic remoteness from mainland France, socio-economic structural weaknesses, and lack of infrastructure. One of the shared challenges of the overseas territories is the need to integrate the territory within its geographical area at the local level. This regional anchoring of the territories needs to be accompanied by cross-border cooperation projects.
At the Assises des Outre-mer, held from October 2017 to April 2018, citizens had the unique opportunity to make themselves heard on the public issues as well as to propose new initiatives. A summary of these public consultations and the selected projects are presented in the blue book. The new priorities for the overseas territories are set out across four strategic axes. "territories for better living", "territories supported in their transformation", "pioneering territories" and "territories of influence and prestige".
Strengthening regional foothold
The 4th strategic axis concerns the strengthening of the overseas territories' 'regional foothold'. This priority implies a strategy of coherent development in the context of the marine basins whose culture and common challenges these territories share. The overseas territories must therefore invest in their neighbourhood in order to strengthen local ties and reaffirm their geographic position.
More info - Consult the blue book [in French]
A new section on the overseas territories on the MOT website
The MOT is working with Overseas France: developing and supporting cross-border cooperation at the local level is indeed essential for increasing regional standing.
In order to present these territories and the challenges for their cooperation efforts, the MOT has created a new section [in French] on its website.

Back to list