News
OPEN DAYS 2013: The CECICN workshop - and Launching of an Award for the EGTCs!
October 2013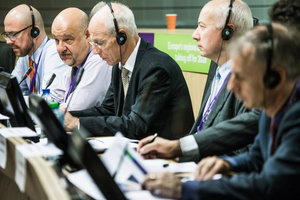 The 11th OPEN DAYS, European Week of Regions and Cities, took place from 7 to 10 October 2013 in Brussels, attended by more than 6000 participants from all over Europe. Cross-border cooperation was on the agenda of a number of workshops.
The MOT had a strong presence throughout the week, for example organising a workshop of the CECICN, of which the MOT is a founding member, on "Territorial cooperation and single market: how to create tangible added value for citizens in cross-border territories and interregional networks", attended by more than 230 participants.

Report of the CECICN OPEN DAYS workshop
More info in the MOT newsletter No.92 (page 3).
All the workshop presentations (Code 09B02).
More info on the CECICN.
A joint event with the EGTC Platform and an Award for the EGTC!

The CECICN workshop, complementary to the Committee of the Regions EGTC Platform workshop "The European Groupings of Territorial Cooperation: Cross-border players in the Single Market", was followed by a joint event attended by a hundred persons.
The Committee of the Regions launched at this occasion the Award "Building Europe across Borders" for the EGTC, to give visibility to the EGTC as an instrument for fostering economic growth and especially for implementing the Europe 2020 strategy. This informal interaction event was also an opportunity to continue the discussions started in the two workshops. The CECICN presented its network and its activities around the specialisations of its member networks.
Back to list