News
2015 regional elections in France: an update on the territorial reform and cross-border cooperation
December 2015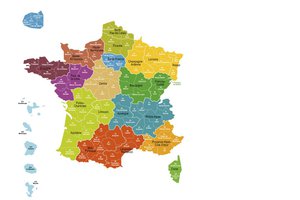 Following the regional elections and the reform which reduced the number of regions in mainland France from 22 to 13, the MOT has published a note (in French) on the new French regions and the territorial reform: what will be the impact on cross-border cooperation?.
Nine of the 13 new regions in mainland France are border regions and are involved in a territorial cooperation programme (Interreg A): Alsace-Champagne-Ardenne-Lorraine, Aquitaine-Limousin-Poitou-Charentes, Auvergne-Rhône-Alpes, Bourgogne-Franche-Comté, Languedoc-Roussillon-Midi-Pyrénées, Nord-Pas-de-Calais-Picardie, Corsica, Normandy and Brittany.
Download the note: "Nouvelles régions françaises et réforme territoriale : quels effets sur la coopération transfrontalière ?"

Back to list