News
The "Diplomacy and Territories" White Paper online
December 2016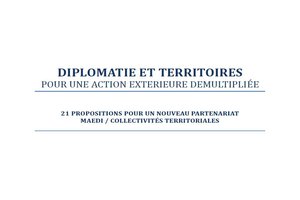 Endorsed on 23 November 2016 by the plenary session of the National Commission for Decentralised Cooperation (CNCD), the "Diplomacy and Territories" White Paper of the Ministry of Foreign Affairs and International Development is online on the website of the DAECT (Délégation pour l'action extérieure des collectivités territoriales (Delegation for the External Action of Territorial Authorities).
Click here to download it [FR].
The November issue of the MOT's newsletter published an editorial by the Minister Jean-Marc Ayrault and a presentation of the "strategy for cross-border cooperation" proposed by the White Paper. Click here.
Back to list