News
Updating of the MOT's legal resources: a toolkit for players involved in cooperation
September 2016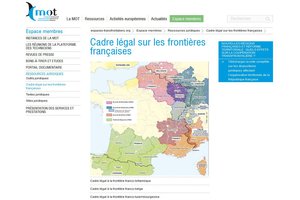 This summer, the MOT completely updated its online legal resources relating to cross-border cooperation law.
These provide a toolkit regarding the different legal structures for cross-border cooperation, giving for each one explanations of how they are set up and partnerships are formed, their purposes, applicable legislation, organisation, financing and each structure's advantages and limitations. A second part sets out the legal framework for cooperation on each of France's borders.1 And a further section groups together the main legal texts: multilateral and bilateral agreements, European regulations, and agreements and texts under French law.
This legal toolkit is reserved for MOT members; it is available in French in the Members' Area on the website:
www.espaces-transfrontaliers.org/espace-membres/ressources-juridiques
1 Including France/Brazil/Suriname and France/Netherlands (St Martin).


Back to list