News
Lorraine and Saarland sign a cross-border agreement on professional training
September 2014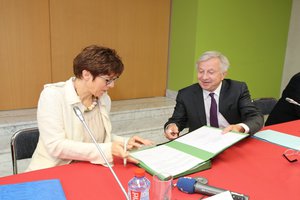 After a year of negotiations, on 20 June 2014 at the Conseil Régional of Lorraine a framework agreement was signed with Saarland with the aim of developing cooperation initiatives in the area of initial and ongoing professional training.
This agreement should make it possible to take account of the needs of businesses in both regions with respect to skills and qualifications and to meet these by means of appropriate cross-border training courses. This is supplemented by an initial specific implementing agreement that opens up the possibility of cross-border training as early as September 2014.
Drawn up in a relatively short space of time, these agreements give concrete expression to the commitment made in September 2013 by the President of Lorraine's Conseil Régional, Jean-Pierre Masseret, and Saarland's Minister-President, Annegret Kramp-Karrenbauer, to improve the fluidity of the Saarland-Lorraine labour market and develop reciprocal employment possibilities, particularly for young people.
The Saarland-Lorraine cooperation on professional training must both address the tensions existing in some professions and lines of business and strengthen the available resources to reduce youth unemployment. In a cross-border labour market that represents around 20,000 people who commute every day from Lorraine to Saarland, it enhances the mobility of young and other workers through the promotion of a bicultural approach to training and the world of work.
For more information: Conseil régional de Lorraine – Formation professionnelle – +33 (0)3 87 31 81 25
Back to list