News
The European Straits initiative is continuing!
November 2014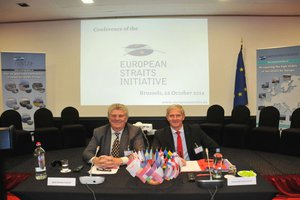 On Wednesday 22 October, the NOSTRA (Network Of STRAits) project was closed in Brussels. NOSTRA is a European cooperation project led by the Pas-de-Calais Department. The 16 partners along 8 straits, from North to South, including the Danube delta, share the objective of preserving the biodiversity and natural heritage of their territories, while also highlighting their common concerns: governance, the environment, tourism, mobility and maritime safety, etc.
To respond to these challenges, in 2010 Kent County Council and the Pas-de-Calais Department set up the European Straits Initiative, with the first concrete action being the launch in 2012 of the INTERREG IVC "NOSTRA" project, for which Europe provided 75% of the financing.

The project's outputs consist of the production of a guide detailing 50 good practices, a baseline study of European straits and 15 implementation plans. The official closure of the NOSTRA project was also the opportunity for the official signature of a new Memorandum of Understanding for the European Straits Initiative. Now numbering 19 partners, the body renewed its political commitment to work for the recognition of the specificities of strait areas by the European authorities and to encourage the development of cooperation projects.


Two weeks after the conference in Brussels, the European Straits Initiative highlighted the specificities of Europe's straits, and the Dover-Calais Strait in particular, at the BRIT XIV conference on cross-border regions, which addressed the issue of straits for the first time.

More info:
nostraproject.eu [EN]
europeanstraits.eu
Back to list