News
The Basque Eurocity sketched by its young inhabitants
December 2014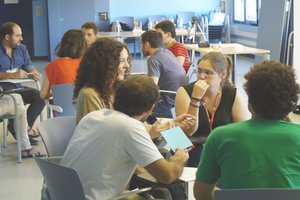 Since September and until February 2015, young people from both sides of the Bidasoa River are working on the "Basque Eurocity of the future".
At the instigation of Eusko Ikaskuntza (Society for Basque Studies), the Forum of Young People, supported by the Aquitaine-Euskadi Euroregion's common fund and the Basque Eurocity, is encouraging exchanges and cross-border relations by letting young people aged between 18 and 33 living in the Basque Eurocity area have their say.
Since September 2014, around thirty young people from both sides of the border – students, young workers, adults and parents – have been dialoguing and elaborating a joint discourse/position on the "Eurocity of the 21st century" that they wish for and that should serve them.
Thanks to the contribution of a scientific committee made up of researchers and experts on economic and social issues, the young people selected topics that are of concern to them: the media, identity and citizenship, cooperation in the area of schools and universities, cross-border employment, cultural cooperation, multilingualism, infrastructures and transport. The sessions, which are held in Donostia-San Sebastián or Bayonne, are an opportunity for the professionals and young people to exchange experiences. In early 2015, the latter group will meet to collectively draw up their proposals for "their" Eurocity of the 21st century.
Back to list