News
The four levels of cooperation of the Nice Côte d'Azur Metropolis
April 2020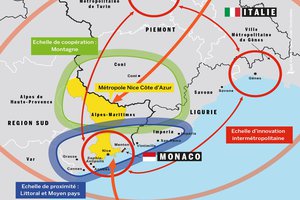 The Nice Côte d'Azur Metropolis is a unique cross-border territory, located between the sea and the mountains and adjacent to two borders: an internal EU border over 100 km long with the Piedmont Region in Italy and an international border with the Principality of Monaco. Its 2020-2030 Cross-Border Cooperation Strategy, adopted on 16 December 2019, is organised into four complementary levels of work.
1. The coastal and hinterland leve

l where the issues of mobility, jobs and natural risks require a close partnership with its neighbours;



2. The mountain level

to maintain and develop eco-responsible public and economic services in the context of climate change;



3. The inter-metropolitan level

where Genoa and Turin metropolises are the main players, also involving Monaco to develop cross-border innovation, in particular to create a cross-border research and innovation zone;



4. The Alpine and Mediterranean influence level

, in partnership with the Sud Region, to ensure that this cross-border area takes action in macro-regional strategies.
The Cross-Border Cooperation Department of the Europe and External Funding Directorate is currently collaborating with the different territories to identify common synergies and prioritise the actions to be implemented over the next three years, specifying each project developer.
More info [FR]:
The map.
More info on the Métropole Nice Côte d'Azur website.
More info on the MOT website.
Read the article: What is a Cross-Border Cooperation Strategy?
Back to list