News
EGTCs meet in Innsbruck
October 2021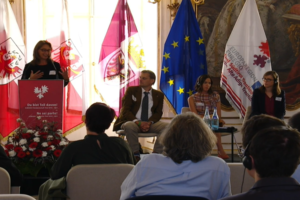 You're part of it! It was under this motto that the 11th EGTC Platform meeting opened on 30 September, hosted by the Tyrol-South Tyrol-Trentino Euroregion (Austrian-Italian border), on the occasion of its 10th birthday.
The MOT took part in this event that showcased the initiatives implemented by the EGTCs, whether in terms of pioneering approaches (CLLD* within the framework of Interreg, the role of an EGTC as coordinator for a candidacy for "European Capital of Culture"), or in the area of crisis management or economic recovery, with the example of the two Franco-Spanish Euroregions.
The EGTC network also welcomed three new members: the Kvarken Council, the first EGTC to be set up in the Nordic countries; the Karawanken Geopark between Austria and Slovenia; and the new Eurodistrict Region Freiburg – Centre et Sud Alsace, which is intended to play a central role as a "co-actor" to address the high political expectations in the territory (post-Fessenheim, Colmar-Freiburg rail-link).
The next meeting of the EGTC Platform has already been scheduled, for 2022, in Liberec (Czech Republic) in the Neisse-Nisa-Nysa Euroregion.
More information, replays and presentations from the day on the website of the European Committee of the Regions.
---
* Community-led local development.

Back to list