News
The MOT's workshops : "Cross-border investments" and "Rural areas"
October 2016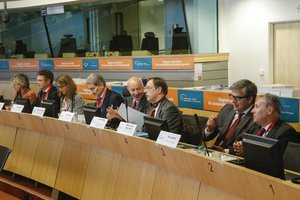 During the European Week of Regions and Cities, the MOT organised two workshops: the first on cross-border investment and the second on rural areas.
Workshop on "Cross-border investments: potential, achievements and challenges"
Organised jointly with the Committee of the Regions,1 the workshop brought together more than 100 participants. It was introduced by Raffaele Cattaneo, President of the Lombardy Region and of the COTER Commission. Three projects were presented:
- the extension of the Strasbourg tramway to Kehl (FR-DE);
- the strategy of the EuroGO EGTC (IT-SL) and its translation as an ITI in the Interreg programme;
- the "Top Technology Cluster" project for innovation and economic development in the Maas-Rhine Euroregio (BE-DE-NL).
The representative of the Caisse des Dépôts (France) presented financial tools that are useful for cross-border projects.
The representative of the European Investment Bank (EIB) explained the work of its investment advisory hub in supporting cross-border projects, which have become a political priority.
Dirk Peters, a senior expert at DG REGIO emphasised the under-utilisation of the EGTC tool and called for better coordination of existing modes of financing, notably via ITI.
Jean Peyrony, the MOT's General Director who was the moderator, concluded by talking about the value added of cross-border investment projects: "It is vital to have more of them, with better use made of existing tools and new modes of financing involving national development banks and the EIB. The MOT will contribute to this."
More info
Workshop on "Cross-border rural areas and European Territorial Cooperation Programmes"
Bringing together nearly 100 people, the workshop was facilitated by Olivier Denert, the MOT's Secretary General, who presented the specific issues facing cross-border rural areas and the account taken of them by European local development tools such as Integrated Territorial Investment (ITI) and Community-Led Local Development (CLLD). Four examples were presented: the Espace Mont-Blanc (FR/IT/CH), which has developed a Cross-Border Integrated Plan within the framework of the Alcotra programme; the Maas-Swalm-Nette Cross-Border Nature Park (DE-NL) set up in the form of an association; the Italy-Austria Interreg programme, which promotes the CLLD tool arising from the experience of LEADER projects; and the EuroGO EGTC (IT-SL), which uses the ITI tool to ensure integrated management of the different aspects of the Interreg programme.
More info

* COTER Commission and EGTC Platform.
** Such as packaging and the complementary nature of EFSI funding and assistance from the EIB and national development banks.
Back to list