News
Cross-border players come together to relaunch cross-border cooperation
July 2021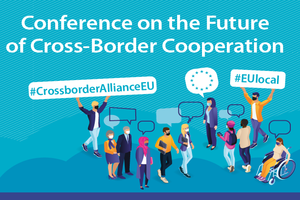 Organised by the European Committee of the Regions in association with the other founding partners of the European Cross-Border Citizens Alliance (the MOT, AEBR and, CESCI), on 5 July the Conference on the Future of Cross-Border Cooperation brought together nearly 200 participants.
During the event, the participants reviewed the effects of the health crisis, while at the same time identifying the current and future challenges for cross-border regions and setting out a forward-looking vision for cross-border cooperation, as a driver of integration for the future of Europe.
The event took place several days after the adoption, at the CoR's plenary session, of a resolution on the long-term future of cross-border cooperation, which will serve as its official contribution to the Conference on the Future of Europe.
This resolution had been preceded by a broad consultation conducted by the CoR, in which the representatives of border regions had cited cross-border transport and accessibility, as well as bureaucratic obstacles for citizens and businesses, as being the biggest obstacles faced by inhabitants in their territories.
The ECBM is regarded as being an essential tool to provide concrete solutions to these obstacles that are specific to the cross-border context. Despite the lack of consensus at the level of Member States, this conference was an opportunity for DG REGIO to reaffirm its determination to pursue the negotiations on the proposed regulation, pointing in particular to the results of the "b-solutions" initiative, which so far has made it possible to identify and respond to over 90 cases.
As the MOT's representative, Jean Peyrony stressed the lessons to be learned from the recent crisis on national borders, from the level of "cross-border living areas" to the European level, by way of the national level, which is decisive in the coordination of border restrictions.
Back to list