News
"The cross-border dimension – a new impetus for the territory"
September 2019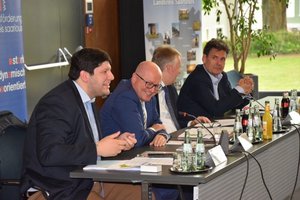 Editorial by Tristan Atmania, Deputy Director of the Territorial Attractiveness and Competitiveness Department – Saint-Avold Conurbation:
"In this crucial year for Europe, our territory of the Moselle, at the crossroads of the founding countries of the European Union, and also of the Saar-Lor-Lux Greater Region, is at a turning point in its history. In this respect, the cross-border cooperation that is already being forged in all areas of daily life represents a major asset to be developed in the context of the competition that we face with the other regions of the world. [...]"
"To remain competitive in an ever more open world, Saint-Avold and the Moselle must prioritise the multilingualism that has already been this territory's strength, but also focus on building the intercultural relations that will make it possible to give their children a more secure career path, and hence a sustainable future.
In a Greater Region that produces 3% of total EU GDP and where 239,000 people make daily cross-border journeys, the mobility of workers travelling to our neighbours is a source of job opportunities and invaluable economic activity for the Moselle's inhabitants. It is therefore the duty of political leaders to work for better cross-border mobility between the Moselle and the neighbouring countries.
With the signing of the Aachen Treaty in January 2019 and the signing last year of a new bilateral agreement between France and Luxembourg, the Moselle must seize this opportunity and formulate new ambitious cooperation policies by building new links with its partners, thereby creating a "seam" border to help it in its development. I know that, along with all of you, players involved in cross-border cooperation will rise to this challenge for the future of our territories."
Tristan Atmania is also Vice-President of the Greater Region Institute and Expert in the Greater Region's Economic and Social Council.
Read the article : "The Saint-Avold Conurbation – a new member of the MOT's network"
Back to list