News
Cross-border relations at the heart of Franco-German diplomacy
February 2018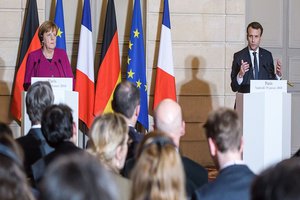 In reponse to Emmanuel Macron and Angela Merkel's desire to sign a new Elysée Treaty in 2018, and on the occasion of its 55th anniversary, the German Bundestag and the French National Assembly, meeting in a joint session on 22 January, adopted a resolution inviting the two governments to renew this treaty in order to "deepen the Franco-German partnership" and "launch a new dynamic".
Parliamentarians' recommendations call for the two states to "develop cross-border cooperation" and "strengthen the competences of Eurodistricts".
Indeed, on the 26 subjects that they hope to see developed in the new text, cross-border cooperation is particularly emphasised, notably on schools, local transport, language learning, supporting joint projects, etc.
The new treaty should therefore "facilitate the lives of inhabitants of border regions, by allowing cross-border Eurodistricts with strengthened competences to find innovative solutions in the areas of education, social welfare, employment, and security."
The resolution also supports the plan for citizen consultations proposed by Emmanuel Macron, in order to allow everyone to participate in the relaunching of the European project.
The MOT proposes that citizen cross-border consultations be implemented on all borders (if you are interested, contact the MOT's team*).
Download the resolution [FR-DE].
* Tel: +33 (0)1 55 80 56 80 - mot(at)mot.asso(dot)fr
Back to list