News
Cross-border issues on the agenda for the Franco-German Council
April 2016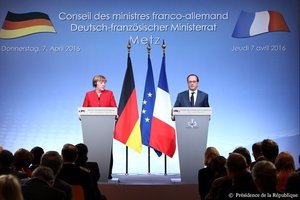 Cross-border cooperation was on the agenda for the 18th Franco-German Council of Ministers presided by François Hollande and Angela Merkel on 7 April 2016 in Metz.
Another conference on cross-border cooperation, modelled on those in Sarrebrücken (2013) and Metz (2015), was announced for 2017, to be held in Germany.
Other cross-border topics were addressed:
- Security: France and Germany signed an agreement allowing cross-border use of police aircraft. It will be completed, before the end of the year, by a new agreement creating a joint riverine unit on the Rhine;
- Employment: Continuing the mobilisation of the French and German public employment services, and strengthening cross-border job placement services as well as bodies for advice and support;
- Health: strengthening the cross-border supply of healthcare in the Sarre-Moselle zone;
- Higher education and research: the creation of Eucor, the European Campus marks an important step.
Back to list