News
Greater Geneva in lycées' school programme
December 2015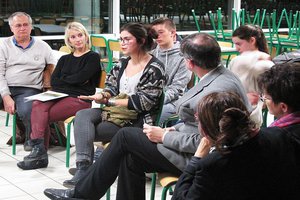 The local development council of the French Geneva area has presented a new edition of the educational material on Greater Geneva, which is entitled "Greater Geneva, our daily territory" and aimed at students in the penultimate year of lycée as part of the geography syllabus.
Building on the positive response from students and their teachers in 2012, this second edition, which is accompanied by a teacher's book and a book of exercises, was distributed in 15 lycées within the zone of the French Geneva area Regional Cooperation Assembly at the start of the 2015 autumn term.
A total of 85 teachers and 94 classes comprising 3100 students are concerned.

"For this project [Greater Geneva] to succeed, it is crucial that the inhabitants on either side of the border understand the issues at stake and appropriate them. And among the inhabitants no population is more important than young people. For the school students of today are the citizens of the future. It is therefore vital to get them interested in these subjects, which are essential for the harmonious and effective development of our beautiful region", emphasised Gabriel Doublet, Vice-President of the Regional Cooperation Assembly at a meeting of school students and elected representatives on 13 November 2015.
Back to list