News
Nearly 180 people assembled to discuss the topic of cross-border economic development
October 2015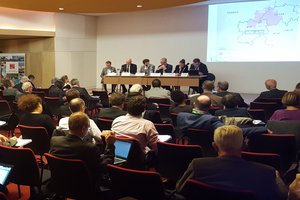 The final conference of the project embarked on by the MOT in 2014 on cross-border economic development brought together nearly 180 people in Paris on 30 September.
Marc Abadie, Director of the Network at the Caisse des Dépôts (France), stressed the priority that should be given to cross-border territories, affirming the Caisse des Dépôts' desire to invest in structuring and "pilot" projects.
Jean-Christophe Baudouin, Director of Territorial Strategies at the General Commission for Territorial Equality (CGET, France) likewise affirmed the CGET's commitment: "This cooperation is today a necessity, not only to optimise territorial development along the country's borders, but also because these territories embody the European project par excellence". He recalled the importance of cross-border observation, the indispensable prerequisite for action, while saluting the contribution made by the MOT's work, which is helping to reduce the ignorance about cross-border economic dynamics.
Henry Beillet, President of the French-German Kiosk Office makes the same assessment on the ground: "Reading firms' business plans, we realised that entrepreneurs don't take account of the cross-border potential for the simple reason that they don't think of it! There is real work to do in terms of raising awareness".
Among the other priority areas to be developed, the appropriateness of cross-border regional innovation strategies was strongly emphasised.
The project's results, which have been published in the form of two handbooks, provide a comprehensive analysis of the topic, portraits of different territories, project factsheets*, as well as a practical guide to the setting-up of partnerships and projects.
* Illustrative projects in the area of cross-border economic development
The press release
More info on the project
Back to list