News
The MOT inaugurates its online documentation portal!
July 2015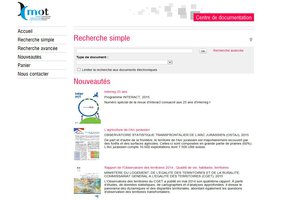 After more than five years of work, the MOT is inaugurating its online documentation portal - available in French - and opening up its documentation centre to specialist users.
It provides access to more than 3600 documents on cross-border cooperation, border and cross-border territories, territorial cooperation and, more generally, spatial planning. More than 800 documents are in English.
The online portal enables targeted document searches1. All visitors can use the search function and browse the bibliographic descriptions, but downloading of electronic documents2 is restricted to network members and, on request only, to students and researchers.
The documentation centre itself has a collection of more than 2700 hard-copy documents. It is accessible to the same specialist users, by appointment. The collection is divided into four categories: Borders and Territories, European Union, Topics, and Atlas.
1 Including through three highly-detailed thesauruses: borders and territories, European topics and general topics.
2 1430 documents can now be downloaded in PDF format.
Back to list