News
DG REGIO is drawing up a list of cross-border information centres, as well as of cross-border observatories
September 2019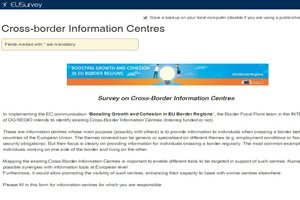 Following the Communication "Boosting growth and cohesion in EU border regions" in September 2017, DG REGIO has been trying to identify existing cross-border information centres (Interreg funded or otherwise) that aim to give information to inhabitants who regularly cross a border, on topics such as work, tax and social security.
The objective is to map these centres in order to target tools that might help them, explore synergies with European tools and improve networking between them.
A poll has been launched by DG REGIO to this end: click here.
NB: a similar poll has been launched in order to draw up a list of cross-border observatories in Europe: click here.




Back to list