News
The coordination of social security systems
June 2017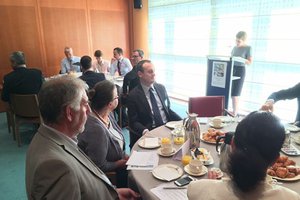 On 31 May 2017, Anne Sander, MEP and Vice-President of the MOT, organised the sixth meeting of the working group on cross-border cooperation, which addressed the issue of the coordination of social security systems in the context of the revision underway of Regulation No. 883/2004, which lays down the common rules required for this coordination.
Presented on 13 December 2016 by the European Commission, this proposed revision is aimed at modernising the current system in order to facilitate labour mobility, ensure fairness for those who move and better combat abuses and fraud. This revision also aims to simplify a number of cumbersome administrative procedures, but without

weakening the rights of cross-border workers.
While this proposed revision was greeted favourably by the players present, some questions remain, notably regarding the issue of the payment of unemployment benefits and the support given to cross-border workers.
In addition, this meeting enabled Guillaume Balas, the rapporteur on the proposed revision, to set out his position on the text and the timetable for the report to the European Parliament, and also to talk with the representatives of cross-border workers present and the experts from Luxembourg's representation, with the latter emphasising the importance and sensitivity of this revision for their territory which hosts a large proportion of frontier workers.

The difference in the level of unemployment benefits between France and Germany, as well as the failure to adapt the education and training programmes for foreign workers, were also highlighted by the representative of the PAMINA Eurodistrict, Frédéric Siebenhaar.
Lastly, Anne Sander concluded by talking about the importance of taking account of the concerns and specificities of cross-border workers in the forthcoming discussions about the revision. It will be important to carefully analyse the consequences of the proposed changes, to consult the stakeholders on the ground and, following on from that, to propose tools to properly support cross-border workers.
Back to list