News
The Working Community of the Pyrenees, at the heart of the development strategy for the Pyrenean massif
November 2016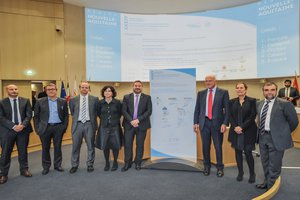 The Working Community of the Pyrenees (CTP) brings together the French and Spanish border regions, and Andorra. Its main objective is to contribute to harmonious and coordinated development of the Pyrenean massif.
On the occasion of the Plenary Council of the CTP, which was held this year in Bordeaux on 10 November, the presidents of its seven constituent territories formalised their commitment to cross-border cooperation with the signing of a joint declaration. This document highlights the priority thematic areas for the development of the massif: climate change prevention and adaptation, the permeability of the territory, and the promotion of languages.
In addition, the CTP is working on the development of an action strategy which will take the form of a "road map" for the years to come.
The Working Community of the Pyrenees, currently presided over by Alain Rousset, president of the Nouvelle Aquitaine region, was established over thirty years ago. It has become a frontline actor in cross-border cooperation at the European level. Accordingly, it is the managing authority of the Interreg VA Spain-France-Andorra programme (POCTEFA 2014-2020), after fulfilling the same role for the previous programming period.
In this context, following the Plenary Council meeting, the second call for proposals for the POCTEFA 2014-2020 programme was officially launched. This call for proposals addresses five priority strands:

Boosting innovation and competitiveness

Promoting adaptation to climate change, as well as risk prevention and management

Promoting the protection, improvement, and sustainable use of local resources

Promoting the mobility of goods and people

Strengthening skills and social inclusion within territories.
The allocated budget amounts to 71.2 million euros. The call for proposals comprises two phases. The project leaders must make a first simplified application between now and 13 December 2016. The list of projects accepted for the second phase will be published in April 2017.
Back to list