News
The Collectivity of Saint Martin: a Cross-border Catalyst
December 2018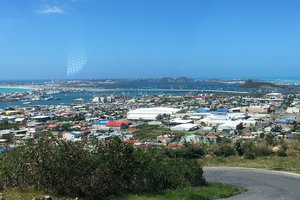 At once a Caribbean island, an overseas collectivity of the French Republic and an Outermost Region (OR) of the European Union, the Collectivity of Saint Martin has resolutely placed regional integration at the heart of its development strategy.
The island of Saint Martin enjoys a geostrategic position in the Antilles arc, at the intersection of international trade towards the Atlantic and the Pacific. It is a binational French-Dutch multiethnic, multilingual and multicultural island, with Saint Martin, an French overseas collectivity, in the north; and Sint Maarten, one of the four constituent countries of the Kingdom of the Netherlands, in the south.
By cooperating and by creating strategic partnerships, the Collectivity of Saint Martin aspires to play a central role in the sustainable economic development of its neighbourhood, the Leeward Islands, stretching from the Virgin Islands (USA) to Dominica.
Furthermore, the territory is subject to considerable natural risks, as seen with the devastation caused by Hurricane Irma, making strengthening regional cooperation vital for better anticipation and more efficient reaction to this type of event. It is from this perspective that the Collectivity of Saint Martin is leading a cross-border project to install a weather radar system in Sint Maarten in order to cover the entire Leeward Islands zone, integrated within a radar network covering the whole of the Caribbean. Another example of cooperation, the project "Geothermal and Digital Interconnection Hub for the Leeward Islands" creates interconnected and resilient territories while promoting digital technologies and clean energies. The Collectivity of Saint Martin became a MOT member in 2018 in order to gain access to its resources and benefit from its expertise for the creation of a local cross-border political structure (EGTC) between Saint Martin and Sint Maarten.
Back to list