News
2014 European Cooperation Day
October 2014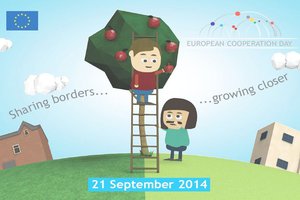 Organised by the INTERACT programme under the slogan "Sharing borders, growing closer", European Cooperation Day was celebrated on 21 September.
A large number of events took place across Europe to highlight the practical achievements of Europe and encourage meetings between European neighbours.
This year European projects were honoured through a video competition which gave awards to four entries presenting projects including a Spanish-Portuguese cross-border collaboration on emergency preparedness, the CAT-MED capacity-building project on the development of sustainable city models in the Mediterranean, and a cross-border tourism development project on the Finnish-Russian border.
Back to list